【POSITIVE】
Participants
Teamwork
Comfortable to work with
New friends
Discovering shortcomings
Improving stage fright
Improving self performance
Joining the theater, opportunity to travelabroad
Warm welcome of Aceh
Passionate to theater
I am thankful that I"m part of this family.Meeting new friends along our workshop. We guide each other, and enjoyed each other's company. My journey in life would be meaningless without the presence of this significant individuals
We improved a lot
We had a successful presentations
Met new friends and facilitators, new experience, new acquaintance
Gained confidence, overcome stage freight,discovered strengths and weaknesses
Gained knowledge and understand othersculture and traditions
Good companionship
Cooperation of actors
Meet new friends
Team work
New challenges on how to act on the stage
Discover strength and weaknesses
Stage is nice. Some participants opened/talked to me and we gave our first impression to each other and it's good that they said that I am snob or bitchy at first but then when we knew each other it's not like that anymore but we know that we have these entire negative attitudes.
We learned a lot of things in the duration of this workshop
We did perform in different stage and acquire more experience
We learned more about theater
Our stay in Kayan is the best, because the food are good and satisfying
When I joined this theater workshop, I observed and experience many good things like
Improving my stage pride
Good connection with new peers
Improving my performance in acting
Our stay in Kayan is the best, because the food are good and satisfying
I am open to suggestions from anyone and willing to improve
I think I did my best and keep on improving in the succeeding performance
The facilitators, staff and directors really took care the participants
order for the a practice or show is successful
Joining here is the reason for me to travel abroad for the first time
Here in the workshop; it enhances the teamwork and discipline for everybody and We learned more about theater
I am very thankful that, I joined this theater show because, learned a lot of things that I can use in the real world/life. I'm also thankful that I meet new friend from different places.
Had no particular conflict within the participants. They all contributed to the play though successful team work.
It was good to have someone leading the participant group. Having someone a little older than the rest of the participants helped to unite the group.
All participants had passion in theater and performance, so this passion each of them carried made the Aceh performance succeed despite the language barrier of Acehnese audience not speaking English
I meet new friends
I was checked by my new friends about my weaknesses (bad attitude) I didn't know like when sometimes I don't know that I usually pout which makes them think that I'm not okay, and they say that I am snob
With regards to performance, everyone has improved
But this had given me the chance to express myself and conquered my fear. When I started joining theater, I realized that this is the only place where I really can see myself. I meeting other people and sharing various cultures is such a blessing in a way that I'm learning something where I can own as my knowledge for the future
didn't just had the confidence
Gago ako, pero guapo ako. Mataba ako peropogi ako. (I am stupid but I am handsome. I am fat but I am good looking)
Gusto naming yung set design (we like the set design)
learning new things
Ayos kasi cool lng kami mga boys ( it isokey, because boys are cool)
Ayos din lang ang samahan kahit sa maiklingpanahon na nagsasama sam kami eh parang tinuring na naming kapatid ang isa't isa. Kahit ang mga staff eh para narin naming mga ate, kuya at uncle. (even it is very short time that we are together our relationship is good , we already treat each other as brothers and sisters, even the staff we treat them like sisters, uncle and big brother)
Gained new knowledge and understand more about other province culture and traditions
Wonderful experience, it is one in a lifetime
During the workshop and practice in Kayan we enjoyed it very much because it is our first time meeting together and we are excited about the shows are going to do.
Workshops and rehearsal in Baguio, we all enjoyed it because we finally create the kind of performance we are trying to do. We enjoy the show
During the show we helped each other to make the show better
There are a lot more but I forgot it.
Gained new knowledge and understand more about other province culture and traditions
Wonderful experience, it is one in a lifetime
During the workshop and practice in Kayan we enjoyed it very much because it is our first time meeting together and we are excited about the shows are going to do.
Workshops and rehearsal in Baguio, we all enjoyed it because we finally create the kind of performance we are trying to do. We enjoy the show
During the show we helped each other to make the show better
There are a lot more but I forgot it.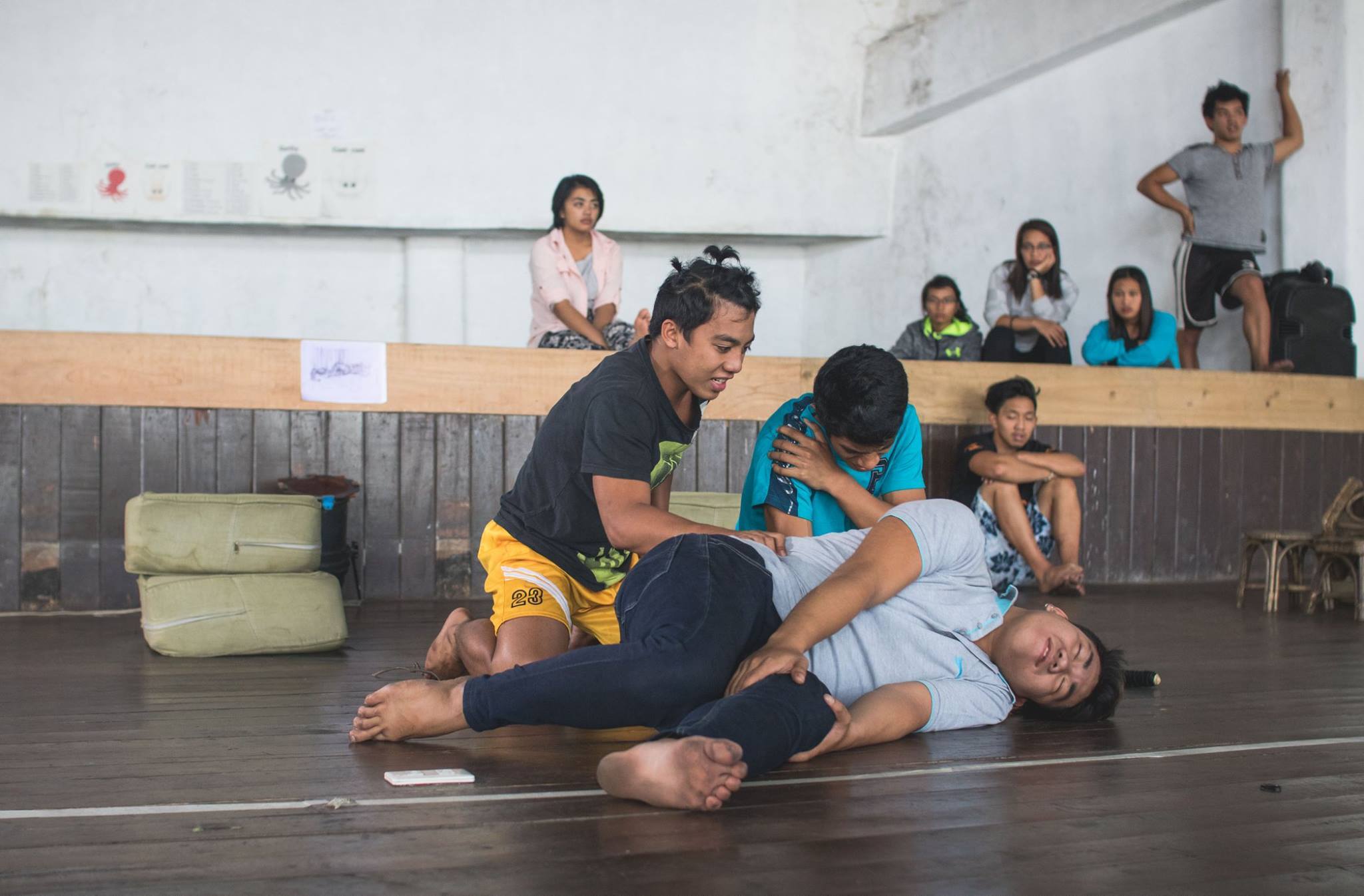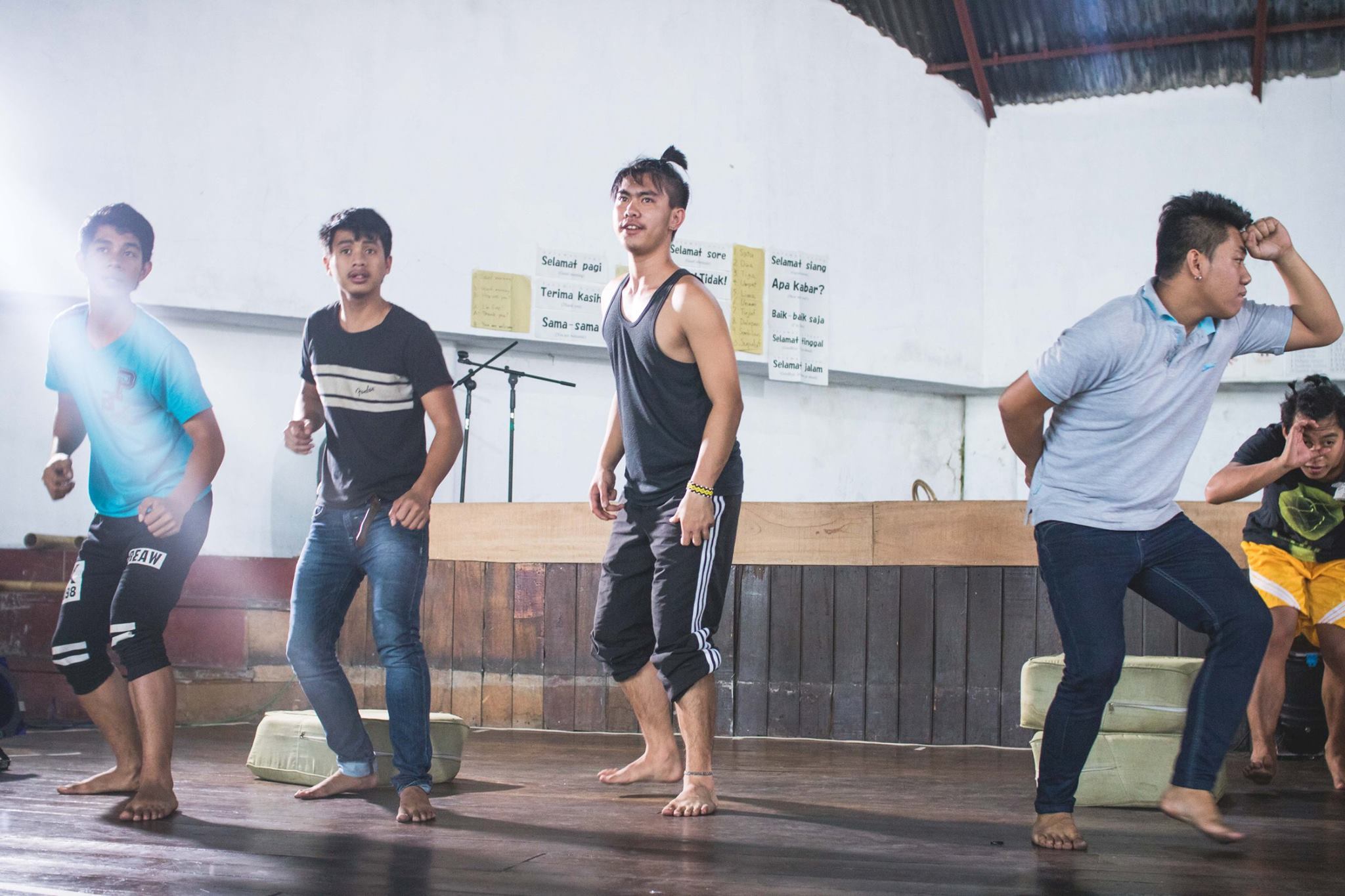 Staff/Facilitators/directors

Allowing participants to enjoy
Good food
Caring of participants by CGN
Bonding of staff, SDS, and others
I enjoyed with the facilitators/staff
We have the best second parents. T.Y (ThankYou)
Thank you for all the facilitators,coordinators, directors, and all the people behind our back.
Iya-iyaman sin nangiutoan yu ken dakami(thank you very much for cooking for us)
Some of the behind the scenes staffs are"bigatin" (being respected because of skills and talent) like manong rocky. Itis a pleasure to work and meet them
The organizers made sure that our basicneeds were provided like food
The coordinators are very accommodating
Our Director, Yoshisan's notion of lettingactors enjoy the show, boosted up each participants' commitment to the show
Setsu-sans workshop helped to disciplinethe participants
The bond and ties between participants,artists, facilitators, part-timers, and interns got stronger with theprocession of time
I discover my weaknesses when it comes totheater, so I can say that I improve with a big difference
I meet many CGN staffs and they are so nice
Being concern of CGN staff even the SDSstaff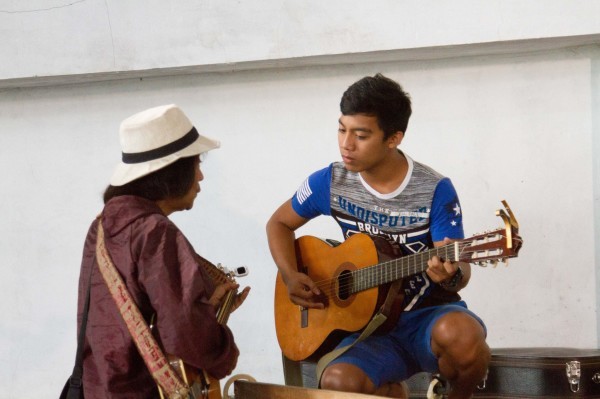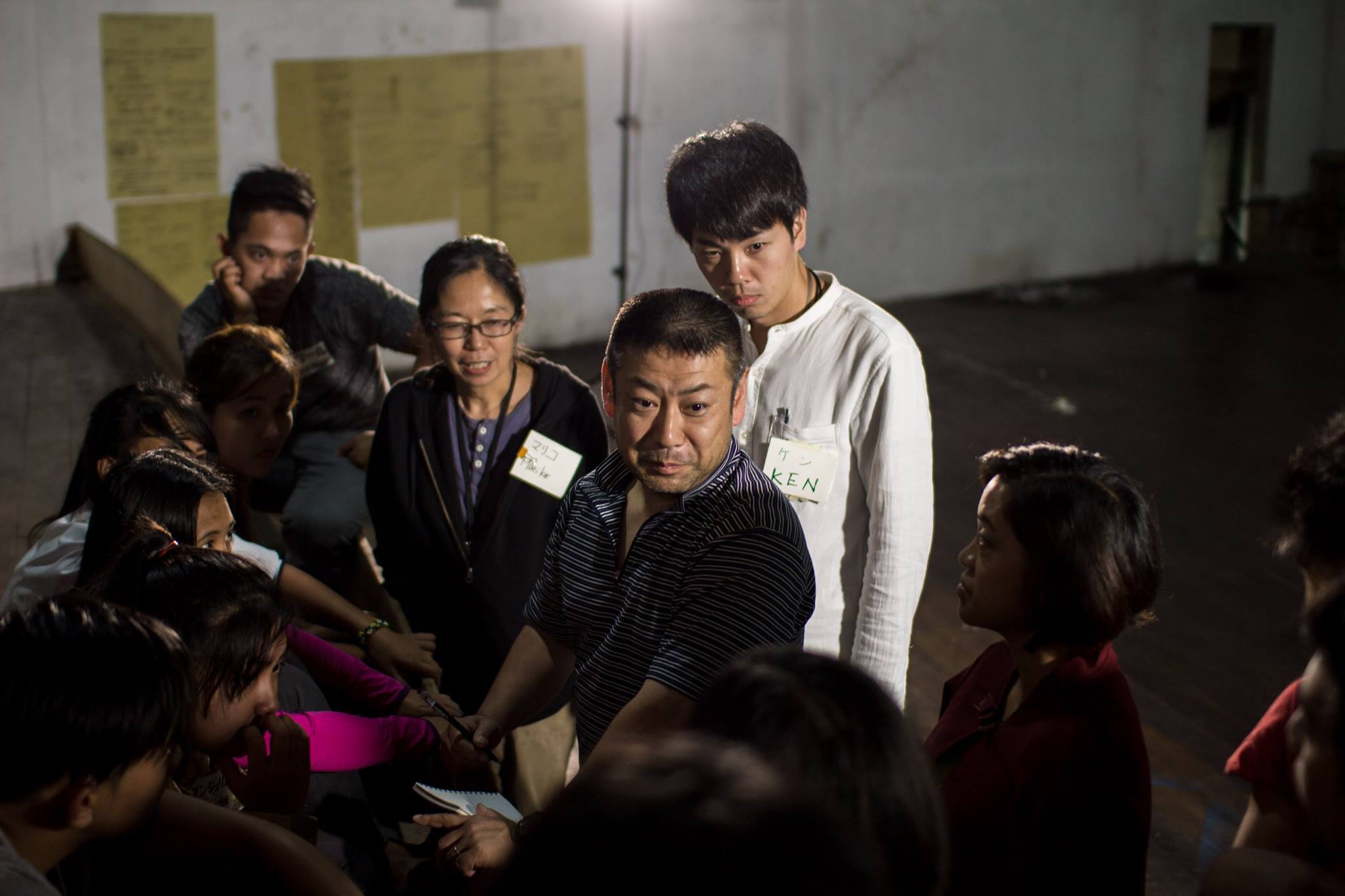 Event
Stage designs affects the performance
I appreciate the stage decoration andlightings
I appreciate the musicians, they did theirjob well. The music gave life to the presentation
Stage set design is very good
Music is good element in theater
Used of dialects is an advantage because wecan freely express ourselves.
Good melody of the songs
The output of the show is really good eventhough it is not 100%. All participants enjoyed their own roles.
We have the best stage set and lightings
The background of the stage looks real
Most of all, I am very thankful because allof our presentations are successful and I am satisfied that it will be aninspiration to everyone. I also appreciate how Aceh welcome us and how easilythey socialize us.
The materials, spectacles of the show werecomplete such as the lightings, props, and set design
A good stage design that affects ourperformance
The set/stage design is very well prepared
Music is a great element of theater
The used of observed own dialect during the performance is good for the actors because we can freely express our thoughts.It is also a weak point because the audience can not exactly relate from it(Manila and Indonesia)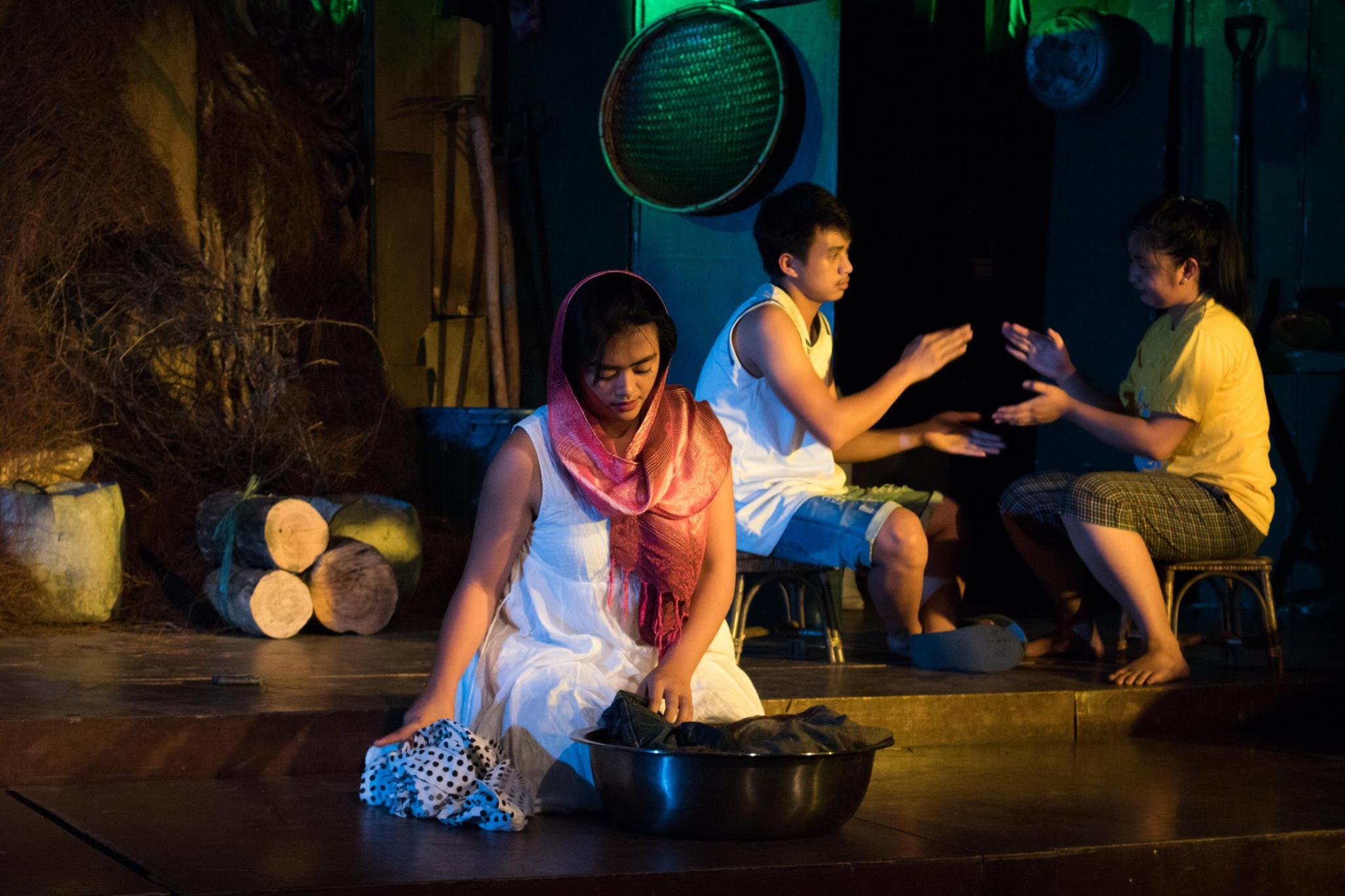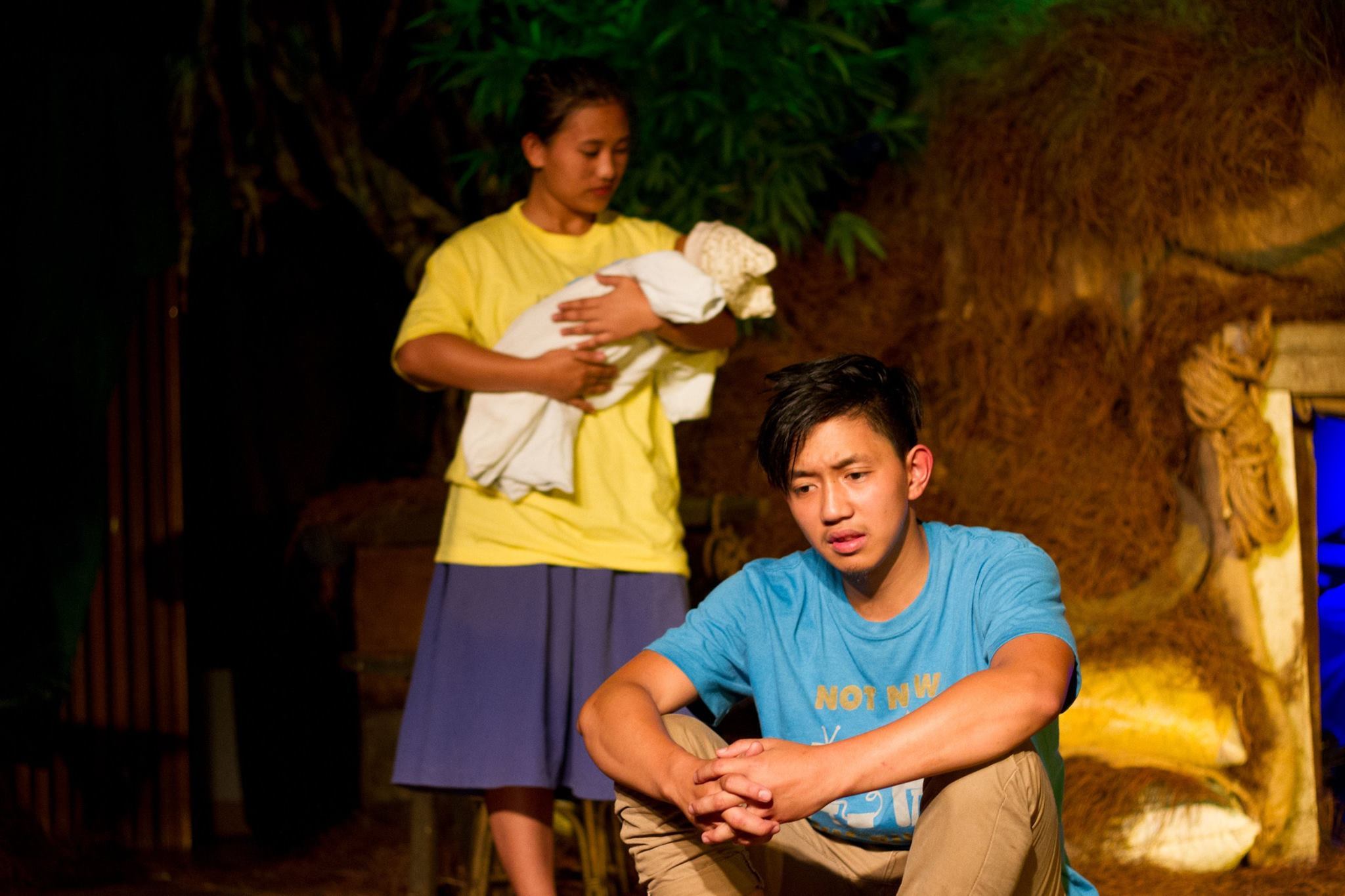 Project:
This is special project not all the timethat we are given the chance to work with other people
Learn other's culture
With other CGN staff
Enhances teamwork
We are accommodated with best condition
We are always full, happy tummy
Good accommodation
We were accommodated with the bestconditions and housing.
We visited other countries
The purpose of the project is noble
I am grateful because the participants andother staff came from different provinces, there might be differences but it'san avenue for us to develop our interpersonal skills
The Indonesian and Japanese respected ourculture very much
Accommodation is good
Good food
Going to other places
Joining this project is my greatestadvantage for my future
Masarap ang mga pagkain (food is good)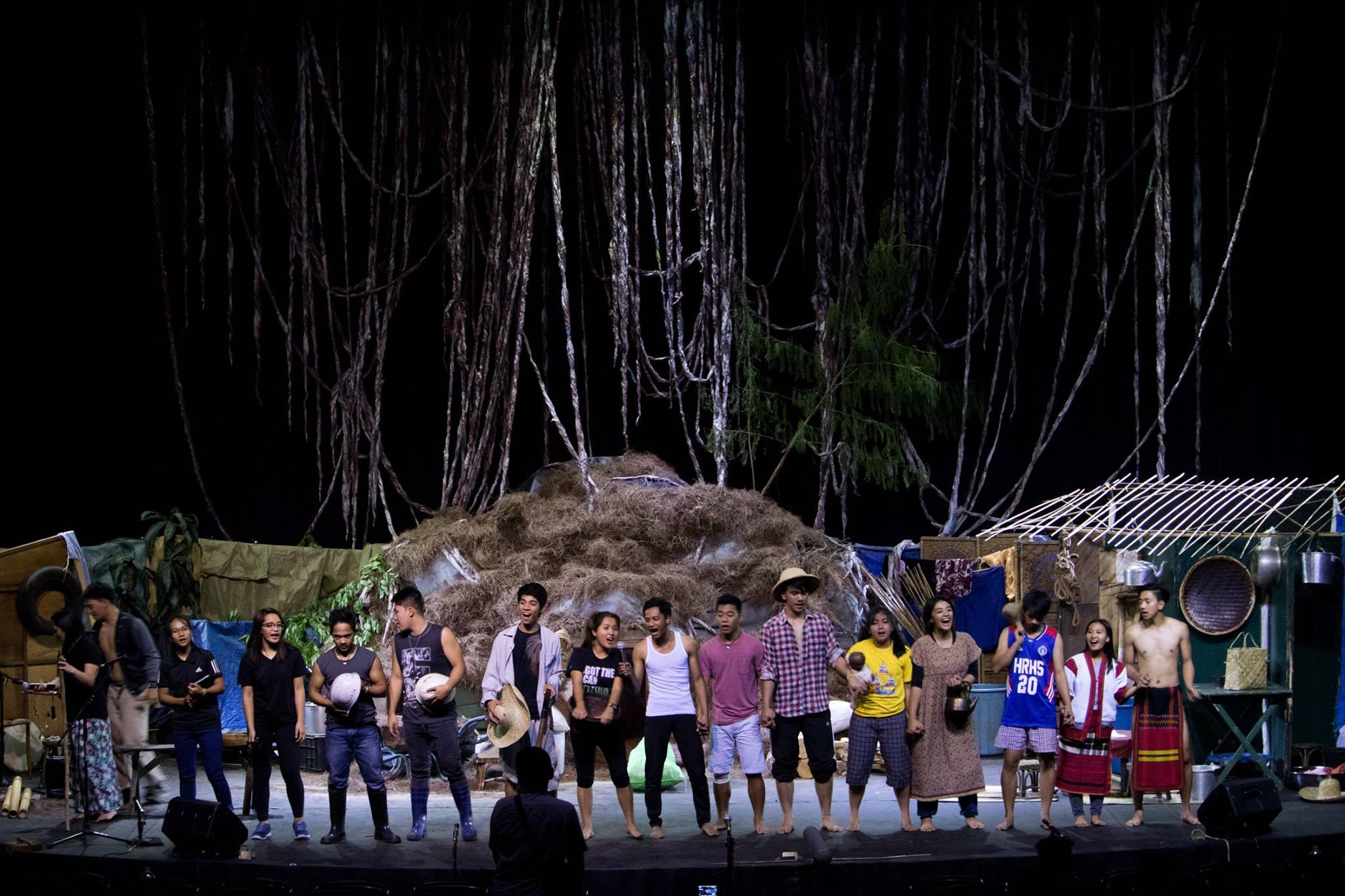 【NEGATIVE】
Between participants
Energetic (tired)
Being perfectionists between participants
Pride to lie low
Misunderstandings affects the performance
Late in sleeping because of facebook
Lack of time to sleep that causesparticipants energetic
No time management
Lack of workshop
Lack of participant discipline
We can't avoid giving negative reactions! Iobserved that some participants can't control their negative feelings towardsme. Along the workshop I was so franksometimes. I didn't expect that some other s got bad attitude. I don't want toconflict schedule. I can't appreciate behavior/attitude.
Misunderstanding with each other
Sometimes we are being pressured because ofthe changes in the stories
Have not enough sleep
Lack of sleep
Some are self-centered
Some has high pride
Misunderstanding between participants andfacilitators
Stress
Staff, they should know why the reason whyI am like that or better they talk directly to me
Misunderstanding within the group
Damgas only knows kalokohan (being carzy)
Lack of sleep but it's our own fault
Meymey nan kakadwa (our companions areslowpot)
There are a lot of conflicts between thedirectors and participants
During the performance, some of theparticipants don't concentrate to the play.
During the rehearsal, some of us don'tcooperate
Discipline
Time management
Language barrier- it's hard to communicate
Some are over sensitive or reactive
I am a bit slow to react and just keep someof my opinions or thoughts or ideas to myself. I am not a frank type of personbut I will try to be in the future to avoid issues.
Discipline, in general to all was "lacking"
There was no workshop, only in Kayan. Incase there are in Baguio and Manila, it was not eveident.
The participants are needed to be toldalways what to do in the beginning of the workshop, it should be automatic.
Sometimes the participants are insensitive
Sometimes because of misunderstandingthemselves or with the directors, the practice can't be pursue well
Participants can't practice well or can'tgive their 100% best performance because they're very tired and lack of time tosleep/rest at night
Sometimes the gap between the participants,directors, seniors are subsiding
Always change of plans for the show
The allowance is not enough
Lack of time to buy souvenirs
Participants don't give and take by therole/dialogs
We participants encounteredmisunderstanding which hurts my feelings and made me cry once
Since the workshop started, I had a lack ofsleep and it's like I get use to it that's why even the activity for the day isover, I still sleep late at night.
Being judgmental (some participants)
No assessment after each activity is done
Language barrier
stress
being un-energetic- because we are tootired
being perfectionist
Unbalanced pride- all of us here is bornwith a pride but pride sometimes is adjustable especially when it talks aboutwork so pls lie low sometimes, or just try to understand others.
During rehearsal- some of us are not takingit seriously, some are doing other things.
Improper time management
Language barrier (Indonesia- it isdifficult to communicate because we have different language and eventranslators can't interpret properly.
We a lot of misunderstandings andmisconceptions about what should we do next
Tired, lack of sleep, stress, and mixedemotions are our greatest barrier to act comfortably
Borrowing of costumes is an advantage especially when you cannot find it knowing that your role is coming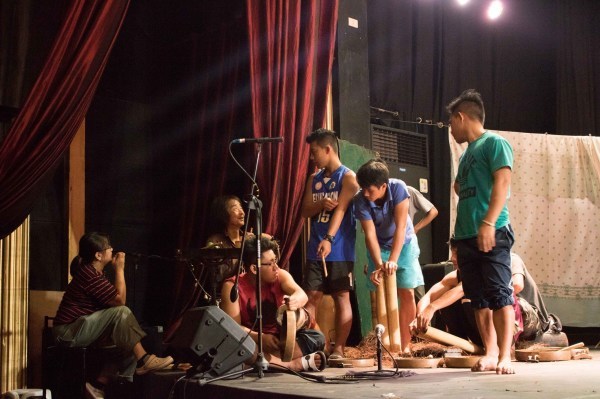 Staff/facilitators/ directors
No clear instructions from the directors
Changes of plans
Game activities in workshops takes a lot oftime in rehearsals
Rehearsals should start from beginning toend (no cuts between scenes and repeat again)
Attitude, there are some participants thatis self-centered, what they like is that attentions are in them. Example in theworkshop, this one participant speaks louder than the others who is speakingjust to be noticed.
Playing games sometimes takes much timefrom the practice workshop
In the negative aspect, what I only noticeand I don't like is that when during practice time we start very late that'swhy we go home late at night. The reason why we always sleep late.
One more thing that I noticed is thatduring practice/rehearsals we don't start from the first scene until last, thereason why sometimes we forgot the flow of the scenes.
Another is that they don't train/workshopus before we join the play then suddenly they shout or they say something badto us where they know that they did not taught to us that actions or ideas.
Language barrier of having not a singlemember who can speak English, Japanese, Filipino, and Acehnese. translating notonly the texts but ideas back and forth has indeed time consuming
The distress of time. The quality of Baguioshow and Manila show would have been a lot better if there were more time. Allparticipants had passion in theater and performance, but some of the shyparticipants' acting has been better if there was time to boost theirconfidence individually through mind training and relaxation techniques.
It took a bit of time for everyone moldedin the play to set along with one another. So, perhaps molding everyone in thewarm ups could have made the happen a little earlier
The translation in the projector is a bit
confusing and some were not mentioned.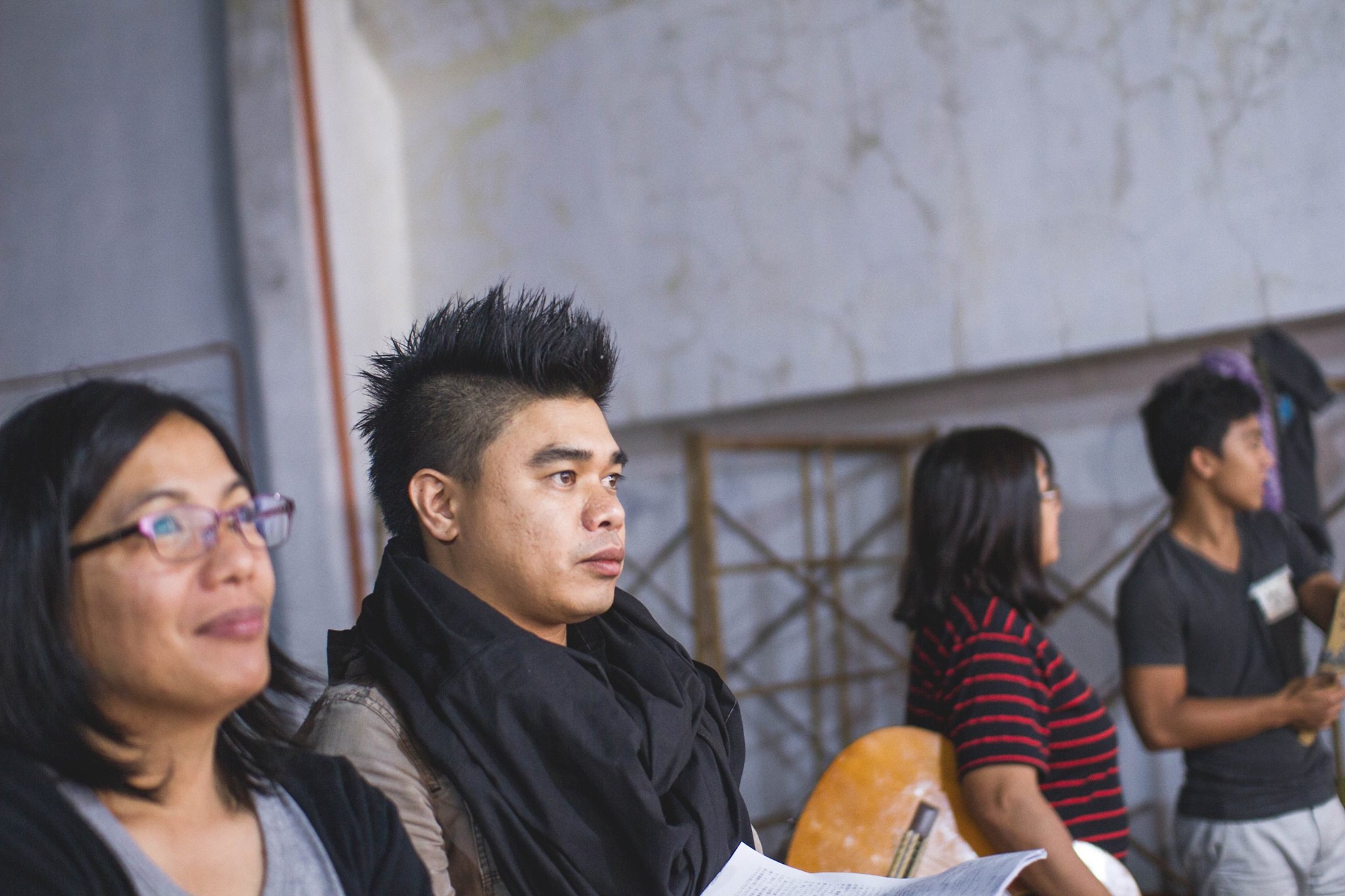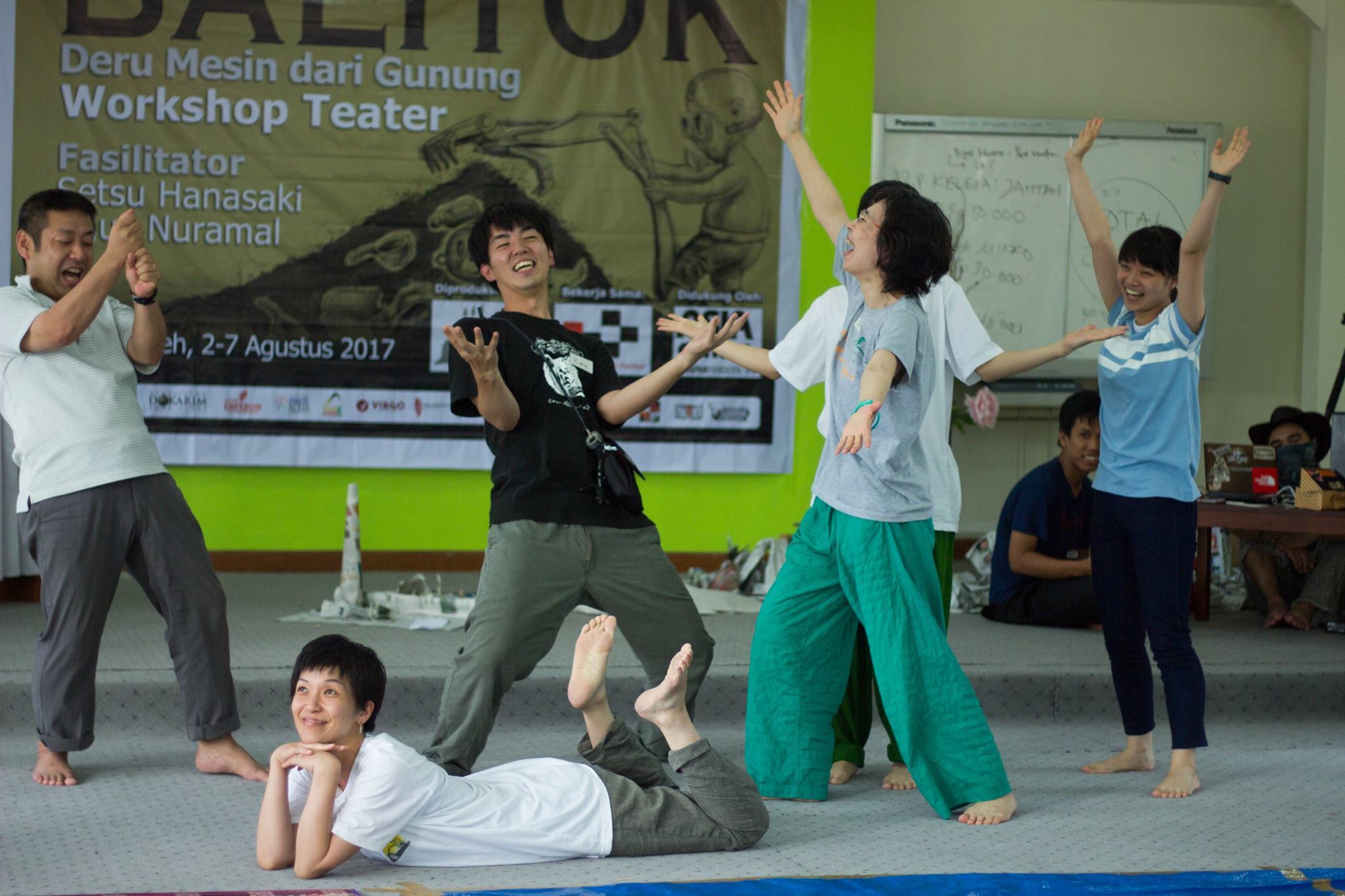 【RECOMMENDATION】
Continuation (to give chance to others toimprove)
Simplify workshops
Longer time for planning technicalities
Final script (discussion) with lightsrehearsal and cameraman and participants
Task should be distributed well betweenstaff and facilitators
More legwork and technical staffs, too manyfacilitators and assistant facilitators
Concepts of workshop is not clear
Output should be defined
Clear communication between facilitatorsand directors
Discussion between participants
Working together, be open to each other
Every activity there should be assessment
More workshops on dance and playing gongs
More workshops on our traditional dance andsongs
Set rules and regulations for participants
This project gives individualsenlightenment, and life meaning. I may not be a good actor that you didn'tappreciate, give me more time to learn, because when I come I'll be a differentperson, I will not be holding my dreams on my little hand. Thanks for moldingme to be good person.
More workshops to come.
Time management.
More workshops! Salamat (thank you)
Sya gawis nan goal nan workshop ay nay (yes the goal of this workshop is good)
There should be allowance for us to use inour studies.
Clear and early instructions from thedirector regarding the practice and the performance
For the actors, they should keep tothemselves, if they can their feelings to other actors or just let it out tohim/her to avoid outbursts that will result too many problems.
Facilitators should at least state theobjective/s of whatever activities they conduct for the participants toappreciate it and not just enjoy- to preserve also the purpose of the workshop
Extensive instructions and changes shouldbe done in the earlier part of the workshop, not last minute
Facilitators and participants should atleast discuss why they want to change parts of the script or play.
Facilitators should at least be straightforward to their comments to the participants
Orientation of participants before theworkshops
More workshop
For the future, I am recommending that thedirectors must have music and dance workshop for the participants because goodstage set and lightings.
After this theater workshop/show, I expectmore workshops to be conducted for me/us to learn more and have much moreexperience.
If we were to do this again, having aconcrete and consolidated schedule will be really good. Missing the presence ofthe consolidated schedule caused miscommunications while putting the showtogether.
Definitely need someone who can speak allfor English, Japanese, Acehnese, and Filipino
Needed longer amount of time to make thefirst two shows (Baguio and Manila) good ones.
Show quality would have been better if wedid discussion/meeting with all members of the show more often.
I recommend that in every activity to bedone there should be an assessment to point out the weaknesses of the activityfor us to know what to improve
Try to connect each other..
Patience and understanding (not only verballybut also on waiting
Assess ourselves and try to adjust in every situation.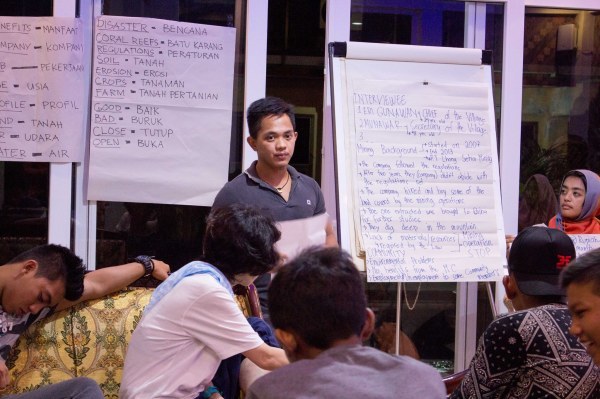 *****
Theater Project on Environment Issue for Indigenous Youth in the Philippines and Indonesia

is granted by